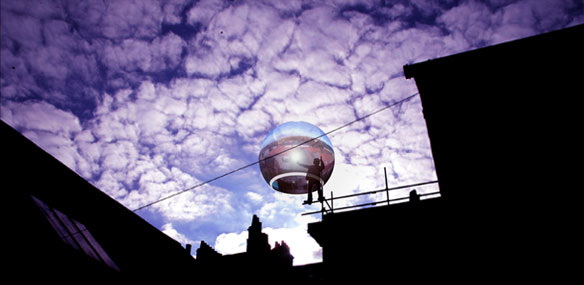 BubbleScope® is the world's first standalone, single-shot, panoramic digital camera for seamlessly capturing experiences as 360° x 104° MegaPixel bubble images - for interactive playback as 'immersive' QTVR movies and high quality photo printing – enhancing your ability to tell a story or share an experience.

Whatever your imaging application, BubbleScope® is at the pinnacle of personal mobile multimedia, enabling you to share an entirely new sense of a situation by integrating handheld Virtual Reality imaging into your existing network of digital devices.




BubbleScope® opens a new world of imaging possibilities. So, now you really can share Tom's point-of-view from the top of that scaffolding! The immersive bubble above was created in a matter of seconds, as were all bubbles featured on Tom's Bubble Blog, through plug-and-play operation with Tom's prototype BubbleScope®.

Using special software developed for the first generation BubbleScope®, 360° bubble images can be simply transformed into interactive 'immersive' QuickTime Virtual Reality (QTVR) movies, which can be viewed, saved and cherished on a PC or Mac, published on the web or shared by email.